Spring Reading Club starts April 1st and lasts the entire month of April. This is a youth program for ages 0-18 and will be on Beanstack. Participants earn a free book when they complete five reading-related activities, like reading books, sharing a love of their favorite books with others, and getting recommendations from others.
Watch the video from Miss Aaryn below for complete details!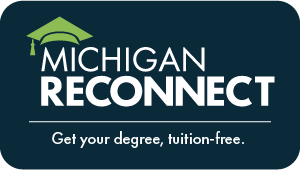 Michigan Reconnect is a scholarship program that pays for you to attend your in-district community college, and offers a large tuition discount if you attend an out-of-district community college.
You can use the scholarship to complete an associate degree or a skill certificate program.
To be eligible, you must:
– Be at least 25 years old when you apply
– Have lived in Michigan for a year or more
– Have a high school diploma or equivalent
– Have not yet completed a college degree (associate or bachelor's)
Interested in a skill certificate from a private training provider? Michigan Reconnect provides a $1,500 Skills Scholarship for Michiganders enrolled in an approved training program.
Costs Reconnect Covers
Reconnect will ensure that when you get your semester bill from the community college, the following items will be free to you:
In-district tuition* – Free
Mandatory fees (fees charged to all students per semester or per hour) – Free
Contact hours (extra charges for certain courses and programs) – Free
Note: If you enroll in a school in which you are an out-of-district student, Reconnect will pay the in-district portion of your tuition but you will have to pay the additional amount charged to out-of-district students. Reconnect is a last-dollar program, which means that any Pell grant funds you receive are applied to your tuition and fees bill first, with Reconnect paying what's not covered by Pell.  If you don't qualify for a Pell grant, Reconnect will pay the full cost of tuition, mandatory fees, and contact hours.
When applying to a college, ask them to estimate these costs that are not covered by Reconnect to avoid any surprises when you receive your first bill.
From Four Pointes' March 2021 newsletter: "COVID-19 VACCINATION UPDATE: Four Pointes has partnered with North Ottawa Community Hospital and will be maintaining a list of seniors 65+ who do not have access to technology and/or internet and are interested in getting vaccinated. As appointments become available our staff will contact you to schedule.
Due to limited supplies, Four Pointes cannot guarantee vaccine availability.
To be added to our list, please contact us at 616-842-9210."
Please pass this information on!