Sign Up for a Library Card
For residents of Spring Lake Village, Spring Lake Township, and Crockery Township.
Card expired? Call us at 616-846-5770 to get it renewed!
OR come in to the library to sign up for a card.
Adult residents or property owners in the Village or Township of Spring Lake or Crockery Township can get a library card by visiting the Checkout Desk and providing verification of their identity and current address. 
The easiest way to provide verification is by presenting 1 of these 3 pieces of ID. The ID must be valid with the current street address.
Michigan Driver's License

Michigan Identification Card

Resident Alien Card
If a person does not have a card meeting the above requirements, they can still get a library card by providing a document from each list below.
List One:
Above listed photo ID

Employment ID

School ID

Out-of-state driver's license

Passport
List Two: Documentation must have the applicant's name and current address on it.
Voter registration card

Recent utility bill

Hospitalization, insurance card or automobile registration

Printed check

Recent local property tax bill
Any patron under the age of 18 (except for emancipated minors) is welcome to get a library card with their parent/legal guardian's permission.
Both the child and the parent/legal guardian must come to the library to apply for a juvenile card.  The parent/legal guardian must present verification from the above requirements.
What's Your Michigan Library Worth to You?
Individualized Return on Investment Calculator
You are seeing a returned value of $ for every one dollar invested!
Values updated at Library of Michigan January, 2019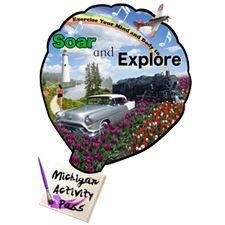 Did you know that your library card can be your best travel companion? Discover hundreds of Michigan's cultural destinations and natural attractions with your Michigan library card! You can "check out" FREE or discounted admission passes (or other exclusive offers) to hundreds of Michigan state parks, campgrounds, museums, trails, arts & cultural destinations, and more.