How to Get a Library Card
For residents of Spring Lake Village, Spring Lake Township, and Crockery Township.
Card expired? Call us at 616-846-5770 to get it renewed!
Option #1: Fill out the registration form on our mobile app. Search your phone's app store for "Lakeland Library Cooperative"
Once you have the app downloaded, select Spring Lake District Library as your home library and tap "Renew/Get a Card" on the main page. Fill out all of your information and attach a
picture of your driver's license/Michigan ID
. We will send your library card to your home through the mail.
This is for a permanent full use card, which includes all of our e-resources.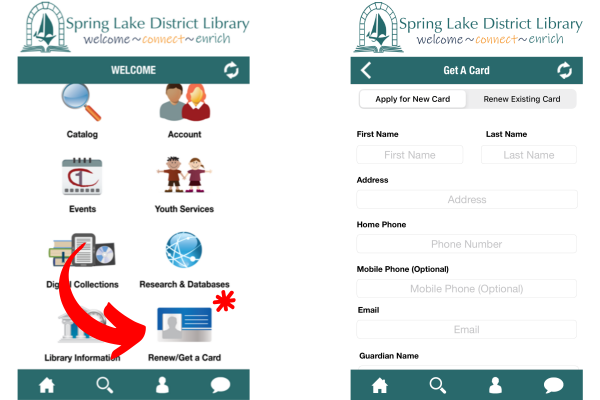 Option #2: Get a temporary e-resources card
Fill out our Google Form with your information and we will email you a barcode that will allow you access our digital resources for 60 days. In order to get a permanent library card, please come in to the library and show proof of identity (e.g. a driver's license.)
This is for a temporary card for e-resources only.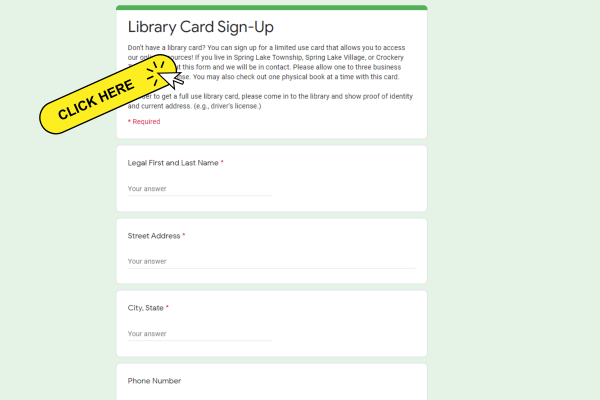 Option #3: The traditional way–come in to the library!
Adult residents or property owners in the Village or Township of Spring Lake or Crockery Township can get a library card by visiting the Checkout Desk and providing verification of their identity and current address. 
The easiest way to provide verification is by presenting 1 of these 3 pieces of ID. The ID must be valid with the current street address.
Michigan Driver's License

Michigan Identification Card

Resident Alien Card
If a person does not have a card meeting the above requirements, they can still get a library card by providing a document from each list below.
List One:
Above listed photo ID

Employment ID

School ID

Out-of-state driver's license

Passport
List Two: Documentation must have the applicant's name and current address on it.
Voter registration card

Recent utility bill

Hospitalization, insurance card or automobile registration

Printed check

Recent local property tax bill
Any patron under the age of 18 (except for emancipated minors) is welcome to get a library card with their parent/legal guardian's permission.
Both the child and the parent/legal guardian must come to the library to apply for a juvenile card.  The parent/legal guardian must present verification from the above requirements.
Juveniles (except for emancipated minors) can obtain this type of library card at any age under 18, but must be able to provide their full name, home address, telephone number and date of birth. The Student Library Card does not require a parent/legal guardian's signature and information.
The Student Library Card can only be used at Spring Lake District Library and the patron must reside in the Spring Lake District Library service area. The card is issued for a period of 1 year or until s/he turns 18 years of age, whichever comes first.
This card may be used to check out one physical library item and any digital material. When the physical item is returned and off of the patron's record, s/he may check out another.
This card can be upgraded to a full juvenile card when the patron comes in with a parent/legal guardian.
If you lose your library card, please notify the Checkout Desk immediately. Replacement cards are available for $2.00.
Accessing your SLDL Account
Using your card number, you can login to view features of your account:
See checked out items

See items on hold

Place, freeze or cancel holds

See & pay any fines or fees applied to the account

View your Reading History (You must opt in to enable this feature.)

Set up email or text notification of holds, due dates, and overdue materials
Want to log in & don't have a PIN yet? Enter your desired PIN then choose Submit.
A total of 100 items can be checked out at any given time

A total of 15 DVDs or Blu-Rays can be checked out at any given time

A total of 25 music CDs can be checked out at any given time
Email Notification
When your held items are available, email notification is an easy and convenient alternative to phone call notification.
You will receive emails when:
Items you've placed on hold are ready for pick up at the library
Checked out materials are due in 3 days
Checked out materials are overdue
To Subscribe or Unsubscribe: Click Here
To change your email address for notification, first unsubscribe, then re-subscribe using your new email address.
Want to get text alerts from the library?  Text Notification is a convenient addition to email or telephone notification.
You will receive texts when:
Items you've placed on hold are ready for pick up at the library
Checked out materials are due in 3 days
Checked out materials are overdue
You can also use texts to get notifications about fees, to renew items, to see all checked out items, and more!
To subscribe:
Text the word SIGNUP to (844) 225-9466
You will receive a text asking for your library barcode.  When you reply with your barcode, a second text will ask for your PIN.
After you've sent your PIN, you will receive a confirmation message.
You can have notifications for multiple library cards go to the same phone number.  For how to set this up and and additional ways text alerts can be used, take a look at this document.
Text alerts are a free service, but standard carrier message charges may apply (if you pay for text messages, you'll be charged for these as well).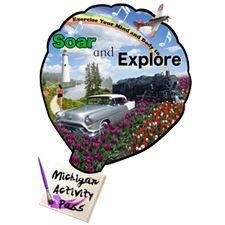 Did you know that your library card can be your best travel companion? Discover hundreds of Michigan's cultural destinations and natural attractions with your Michigan library card! You can "check out" FREE or discounted admission passes (or other exclusive offers) to hundreds of Michigan state parks, campgrounds, museums, trails, arts & cultural destinations, and more.
Overdue Fines
We do not charge overdue fines at SLDL!
Loan Periods
7 days
DVDs, Blu-Ray discs, magazine issues, mobile hotspots
21 days
Books, audiobooks, iPads, laptops, and most other materials
Returning Library Materials
Materials checked out from our library can be returned to any library belonging to the Lakeland Library Cooperative. For a list of all libraries belonging to Lakeland Library Coopertaive, visit this link.
Can't return the book during open hours? All books returned to the after-hours book return to the west of the library entrance will be checked in on the next day we're open.
iPads and other equipment must be returned to a library staff member at the Checkout Desk.