The Friends of the Library is a volunteer organization dedicated to actively supporting and enriching the library for the benefit of the community. The Friends welcome your involvement through membership, volunteering, and donations. Meetings are held every other month on the 1st Monday of the month. Newcomers are always welcome. The Friends are not meeting at this time.
Organized as a 501(c)3 non-profit corporation, the Friends accept gifts which are tax deductible to the extent allowed by law.
Click here to print the Friends brochure and sign up for a membership.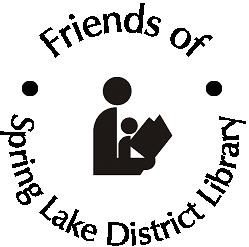 Yearly membership in the Friends of the Library:
Individual: $10
Senior (over 60): $5
Student (under 18): $5
Annual Donors
Donor: $25
Supporter: $50
Sponsor: $75
Patron: $100
Gifts and membership dues may be sent to:
Friends of Spring Lake District Library
123 East Exchange Street
Spring Lake, MI 49456
You can contact the library at 616.846.5770 for more information.
2019-20 Officers
President
Bonnie Holmes

Vice-President
Paula Boodt

Secretary
Alicia Gilewski
Treasurer
Barb Swihart