June 6 – August 5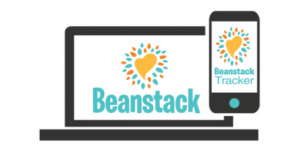 Our summer reading program will be completely online through a program called Beanstack. Beanstack is accessible on a computer at sllib.beanstack.org or on a mobile device as an app called "Beanstack Tracker."
This year, you will be tracking days read, not minutes. The reason we switched to this method of tracking is to help encourage a daily habit of reading. We just ask that you read for a minimum of 15 minutes!
Prizes* for all ages include:
Read for 10 days: Earn a Spring Lake District Library branded water bottle and free ice cream from The Front Porch
Read for 25 days: Earn a Spring Lake District Library bag
Read for 40 days: Earn a free book of your choice
Plus a chance to win grand prizes like….

Gift cards to local businesses, toys and games, and more!
*While supplies last.
Prizes are provided by the Friends of Spring Lake District Library, who received a grant to fund this project. Funding for these grants has been provided by Michigan Humanities and the National Endowment for the Humanities (NEH) as part of the Coronavirus Aid, Relief and Economic Security (CARES) Act economic stabilization plan.
Register online at sllib.beanstack.org
Click Register an Individual or Family.
Click I am registering myself and fill out the form.
Click Next to add additional family members.
Add as many family members as you want.
When you're done registering, click No to say you do not need to register anyone else.
Click Continue to get to the home page for the 2022 Summer Reading Program.
Track your reading by clicking on Log Reading and Activities on the top of the page.
Start reading!
Using the Beanstack Tracker Mobile App
Download the app from the app store of your choice.
Tap Find Your School or Library.
Type in Spring Lake District Library.
If you don't already have an account, tap Sign Up at the bottom of the page.
Follow the prompts to complete the Registration.
Tap Fill Out My Reader Profile.
Tap Add Another Reader if there are additional readers in your family you'd like to add.
Tap Discover at the bottom of the screen and register for the 2022 Summer Reading Program.
Tap the + to log your reading.
Start reading!