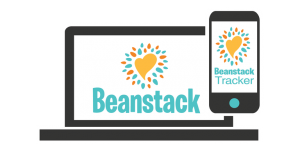 Summer reading goes virtual! For the first time ever, our summer reading program will be completely online. Registration and reading tracking will be done through a program called Beanstack. Beanstack is also available as a mobile app. In addition to reading, we will also be offering prizes for completing activities. Examples include attending a virtual library program, reading on the beach, watching a foreign film on Kanopy, and many more! Scroll down to see information on how to sign up.
Click Register an Individual or Family.
Click I am registering myself and fill out the form.
Click Next to add additional family members.
Add as many family members as you want.
When you're done registering, click No to say you do not need to register anyone else.
Click Continue to get to the home page for the 2020 Summer Reading Program.
Track your reading and activities by clicking on Log Reading and Activities on the top of the page.
Start earning badges!
Using the Beanstack Tracker Mobile App 
Download the app from the app store of your choice.
Touch Find Your School or Library.
Type in Spring Lake District Library.
Enter your email, phone, or library card # and password.
Follow the prompts to complete the Registration.
Touch Add a Reader for additional family members.
Touch Challenges at the bottom of the screen and register for the 2020 Summer Reading Program.
Touch the + to log your reading and activities.
Start earning badges!
Reading tracking can also be done on paper if necessary. Please ask a staff member for assistance.
Visit our event calendar to see the virtual events we have for all ages!