eBooks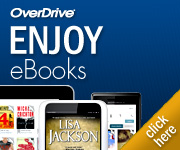 The library participates in the Midwest Collaborative for Library Services, a group of Michigan libraries providing downloadable media to their patrons.  Using Overdrive, patrons of Spring Lake District Library can download eBooks and eAudiobooks to read on their home computers, eReaders, tablets or mobile devices.
Check your eReader, tablet, or mobile device's compatibility with Overdrive

A quick 'How-To' guide from Overdrive
If you're having difficulties, Overdrive's MyHelp site is a fantastic resource!  But if you can't find the information you need there, you're always welcome to come into the library or give us a call, and we can help get you started.
Other eBook resources
You can find plenty of free (and legal!) eBooks on the internet.  Many of these books are out of copyright (usually published before 1927), but some have been licensed under Creative Commons (which allows the creator to reserve some rights and often enables the legal sharing of files).  Sometimes publishers even allow the public to download books for free in hopes that the reader will then buy other books by that author.
Probably the biggest resources for free eBooks are the two sites below.
Other resources include these websites:
If you're looking for a very specific or rare type of book, you might find a digital collection on Wikipedia's list of digital library projects.
Mutopia: Free Sheet Music for Everyone
eAudiobooks

Overdrive also has eAudiobooks available for check out to Spring Lake District Library patrons.  These are transferable to iPods, MP3 players, smartphones and tablets or can be listened to from a computer.
To download eAudiobooks from Overdrive, you'll need to install the OverDrive Media Console onto your computer, tablet or smartphone.  From the Media Console, eAudiobooks can be transferred to iPods and MP3 players.

Just like with eBooks, help can be found at Overdrive's MyHelp!

OneClickdigital offers 200 classic eAudiobooks! Sign up for an account with your SLDL card number to download and check them out.  A list of the titles available can be found here.
Some sites also offer free and legal eAudiobooks for download: