This week I reread a favorite book of mine, A Brief History of Montmaray by the Australian writer, Michelle Cooper. It's a book that owes a huge debt to the classic novel I Capture the Castle by Dodie Smith, but it's much more than a poor imitation. A Brief History… is a fantastic historical novel set in 1936 on a windswept and rocky island in the Bay of Biscay.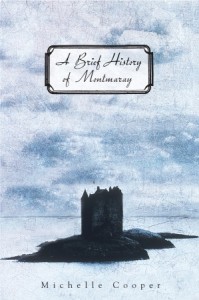 The setting of A Brief History… is a character in itself – that island just south of the English Channel is Montmaray, a small kingdom ruled by the FitzOsbournes for hundreds of years. But now the castle is falling down, the furnishings have been sold off, and only the king, his teenage daughter, his two nieces and a tiny handful of villagers remain in residence. We're told that the majority of the Montmaray men were killed on a single day during World War I then after the war, the rest of the residents moved to England for more opportunities. The very isolation of the island is both a benefit – neither France nor England nor Spain ever felt the need to try to conquer the tiny country – and a huge problem as the royal family and villagers alike wait for passing ships for their mail, foodstuffs, and even doctors when necessary.
Our narrator is Sophie, the sixteen year old niece of King John who might be slightly mad, and the book begins when she's given a blank book by her older brother for her 16th birthday. Toby, her brother, is the heir to the Kingdom (since Salic Law excludes their cousin Veronica from taking the throne). I thoroughly enjoyed Sophie's narrative, and I particularly appreciated the journal format. Her perspective comes to us from a greater distance than the immediacy of a typical first person narrative. That distance can be failing of a novel written as a diary. It can feel unnecessary and throw the reader out of the story, but with this book, it's obvious that Sophie considers and edits what she's writing and sometimes what she doesn't say is as feeling as what is put on the page.
I especially love the character development that occurs as Sophie matures through the course of the book. She begins rather young for her age but develops quickly as concerns about her family and home along with a potential war take the place of worries about boys (even knowing just one boy not related to her, the worries abound) and her place as the boring one in the family.
All of our views of the other characters then are obviously through Sophie's lens, and while she's unflinching when she perceives a flaw, the love and admiration she has for Veronica, her brother, and her little sister Henry are clear in every interaction. Each of the teenage characters comes to life fully realized (therefore avoiding another flaw I often find in journal books). The adult characters are less nuanced, but even that makes sense from the teenage perspective especially in a world where a responsible adult's presence is very much lacking.
The book starts slowly as Sophie discusses daily events, her family relationships, her rather guilty desire to go to London and do a Season in society, and money troubles. Being a Princess on Montmaray doesn't mean much in the way of comforts. The ceiling leaks, drafts abound, and none of them have proper clothes. We get a good deal of Montmaray history – mostly in amusing anecdotes or when discussing Veronica's obsession with writing a history of their kingdom. Once the story picks up though, it races forward and soon there are German operatives exploring the island, bombers overhead, and oncoming storms. Some of the action in the later third of the book is rather confusingly explained, but a sense of tension and foreboding carries the reader through.
I can say without reservation that this trilogy – A Brief History… and the two books that follow – are three of my favorite books in recent years. I'd recommend this book to anyone interested in a look at a tiny (and cold! I kept needing to put on a sweater as I read) island kingdom as the second World War approaches. Or, conversely, anyone interested in a coming of age story set within a family and political drama.
If you're interested in reading A Brief History of Montmaray, you can place a hold on a copy here.